I was very disappointed, when realized that my newly purchased Blu-ray Disc™ Player in not able to play AVI files. I was considering using it together with USB front port to play AVI files and getting rid of old DVD player. My old Phillips DVD player is capable of playing AVI files and I was expecting Blu-ray Disc™ Player to have similar functionality. Read more
Most of modern Blu-Ray Players are capable of delivering network content; many of them have Wi-Fi capability. In fact, ability to play internet content including Netflix was one of the main reasons why I bought my glorious Sony BDP-BX57 Blu-Ray Player from Costco. One more interesting and very useful feature is the ability of network enabled players to stream content from your PC to TV. Read more
People are asking a lot of questions regarding SSD, USB Flashdrive and SDHC cards performance in ASUS EeePC. With all flexibility of OS installation (both Windows XP and Ubuntu Linux), offered by EeePC, these questions become really critical in getting good performance and desired flexibility of EeePC operation.
I don't want to make any conclusion about drive performance. I just want to collect data, available to me on ASUS EeePC 901 and ask people to share information that they can measure on their systems.
While touchpad of my ASUS EeePC 901 is working well for majority of applications, there are some that are not easy to operate without regular mouse. These applications include Adobe Photoshop, GIMP and other drawing, image manipulating and CAD software. Razer Pro Click Bluetooth Mouse is a pure solution to the problem. While you can easily attach any USB mouse to the netboook, Bluetooth Mouse could be an exellent solution for your "mouse mobility" needs. Espesially, taking into account Bluetooth interface presence in your favorite netbook.

Razer Pro Click Bluetooth Mouse is priced for less than $30 at your convenience
With its pocket-sized, ergonomic ambidextrous design, the Razer Pro Click Mobile Notebook Mouse is the ideal notebook mouse for professionals on the go and where space is a constraint. Experience high-precision performance and true freedom with Bluetooth 2.0 connectivity.
Uninterrupted Connectivity – With Bluetooth 2.0 adaptive frequency hopping, you can be assured of a reliable performance no matter where you are.
Ergonomic Form Factor – Enjoy true comfort on the go, with the ergonomic ambidextrous design and sleek non-slip finishing of the Razer Pro Click Mobile.
No Drivers Required – With no need for any driver installation, getting started with the Razer Pro Click Mobile is simply a breeze. I installation is easy with no drivers required.
Razer Pro Click Bluetooth Mouse is powered by two AA battery's and it has the on/off switch to help extend battery life. This is very nice feature for mobile product.
This Bluetooth Mouse keeps all USB ports available for other devices.
And the price, that is almost too times less than most of other Bluetooth Mouse's on the market.
We are back from our Christmas holidays. Happy New 2009 Year!
Navigon 5100 Automobile Navigator for $129.99
When you're always on the go you need a GPS device with the latest technology that's easy to use. The NAVIGON 5100 has all the features you need to manage your busy life. Plus, it looks great on your dashboard. It's slim — less than an inch thick — and sports an easy-to-read 3.5″ touch screen wrapped in an elegant chrome frame.
This take anywhere device is simple to use and offers:
Free Lifetime Traffic that works out of the box
Extra guidance with exclusive 3D Reality View™ and Lane Assist
A host of premium features no other GPS offers
Up to 12 map updates when you accessorize with FreshMaps
Exclusive Zagat® Ratings and Reviews
Intuitive menus and stunning 2D and 3D maps
Easy-to-read map views that adapt to your needs
MSI Wind U100-279US 10″ Netbook Intel Atom N270 1.6GHz, 1GB, 160GB HDD, 6 Cell Battery, 802.11 b/g/n, Bluetooth, Webcam, Windows XP Home Edition (White) for $384.95 after rebate
If you feel that 7 inch ASUS EeePC is two small and 13.3 inch Macbook is two big, this baby is right for you. Powered by full set of features, common for the latest netbooks, including 160GB hard drive and 6 cell battery, this attractive netbook is sold for very reasonable price. Big hard drive offers additional flexibility in OS installation. Light weight, long battery life and almost full size keyboard makes MSI Wind U100 good travel companion.

Power Up USB 2.0 to VGA Adapter – USB 2.0, 1680×1050

for $59.98
The USB 2.0 VGA Adapter enables you to connect any monitor, LCD, projector or notebook. You can use it as an extended desktop or as a larger/different display from your main screen.
I have some concerns about picture quality of this product. In fact, you are getting what you are paying for.
You just got your new eeePC with Linux OS on it. This is specific version of Linux (XANDROS) that has its own unique user interface, modified by ASUS. Interface is very simple, easy and intuitive to use and offers the whole productivity software suit preinstalled. However, it is not compatible with other common flavors of Linux and you would not be able to enjoy completely the whole new world of Open Source Software. In this case, you may decide to move into more common direction and install Windows XP on your eeePC.
Read more
Hava Platinum HD-stream your live TV programs to multiple PCs
Enjoy your home TV:
at home in any room or in your backyard
in your hotel room around the world
on vacation, at work, at a Starbucks cafe
at the airport
basically anywhere you have access to high-speed internet.
A revolutionary TV place-shifting device that allows you to watch and control live home TV from broadband Internet or data network connected PC or mobile phone. HAVA lets you watch your live home TV in multiple rooms around the house, at work, or around the globe.
Nokia 500 4.3″ Touchscreen Auto Navigation GPS – Bluetooth, Text-To-Speech, MP3/Video, Built-In FM Transmitter – 02702Z1 for $99.99
Nokia 500 Feature Rich GPS offers you:
Full Bluetooth car kit integrated into a personal navigation device
Advanced handsfree functions including phonebook download and echo cancellation with DSP.
No compromises on the navigation side with a large 4.3 display and intuitive user interface
Navigation user interface is fully integrated with handsfree telephony and several multimedia applications
Play music on car radio via FM Transmitter or line-out
Nokia 500 Feature Rich GPS is a great travel companion.
Apple iPod nano 8GB Digital Multimedia Device – MB261LLA for $99.99
Audio Player, Video Player and Photo Viewer with 2″ Color LCD and 8GB Flash Memory.
Is this the coolest and best iPod ever?
What makes an iPod an iPod? It can't be the interface, because Creative says it designed that (natch). Could it be the clickwheel? Well the new iPod touch doesn't have one of them so it can't be that either, really. So what is it?
The answer is a word that begins with 'q' and ends with 'uality'. It's made by Apple, and Apple makes quality products. That's almost all you need to know.
Asus EeePC 8.9in 20GB SSD Linux Notebook $389.99 Add to cart for $40 off & Free Shipping – October 28th Only

You have to put the item in the cart to get this price.
00162 Sheetfed Scanner from NeatReceipts for $74.99
Neat Receipts has developed a lightweight, portable, durable color scanner, the Neat Receipt Scanalizer Sheetfed Travel Scanner. The said device is powered by the USB port, so no need to plug it in an electrical port. It scans quickly and easily without opening and closing the lid. It only measures 10.8" x 1.6" x 1.3". Though the device is small and slim, it offers 600 dpi optical resolutions for impressive image quality.
ASUS Eee PC 901 8.9″ Netbook, Intel Atom CPU, 1GB RAM, 20GB Solid State Drive, Wireless 802.11b/g/n, Bluetooth, Webcam, Linux OS Preloaded, Fine Ebony – EEEPC901-BK001 for $409.95
It seems that ASUS is offering $40 instant rebate. Together with Linux version of OS this explains low price. You can argue about what netbook notebook is the best. All of them have very similar list of features. After some research, I figured out that ASUS Eee PC 901 has the best combination of options I was looking for. It has the smallest size among 8.9 inch versions, the fastest Atom Intel's CPU. It is the lightest among 6 battery netbooks, giving up to 8 hours of battery life. I don't believe in 8 hours, it is more likely to get something between 5 and 6, but it should be better than 3 or 4 cell battery lifetime. For majority of other 8.9 inch UMPC's 6 cell battery is an optional and cost additional money. It also has Linux and Windows drivers and this gives you additional flexibility in OS choices if you'll decide to change OS later. And very active user community, helping to support ASUS Eee netbook PC's, supplying interesting ideas for modification and upgrade. I could not resist and ordered one for myself. I'll share my impressions as soon as I'll get my hands on ASUS Eee PC 901
Creative Xdock Wireless – Wireless Music System for iPod may be your's for $49.99
Wireless Music System for iPod streams wire-free music from your iPod around your home, enhances your iPod audio with a high-quality Xtreme Fidelity sound system. Creative Xdock-Wireless Music System for iPod features easy plug-and-play setup with no configuration needed. Simply place your iPod into the Xdock, place the included X-Fi Wireless Receiver in any room of your home and connect it to your home entertainment system or powered speakers. That's it; you're ready to enjoy your music as the wireless setup is automatic!
Coleman 50005 5-Watt Solar Powered Trickle Charger would allow you to start your own renewable energy campaign for $29.99
Be green, stay green, start today. Coleman 50005 5-Watt Solar Powered Trickle Charger will charge your RV, boat or light truck 12V battery even under cloudy conditions. Does not require maintenance, connects in seconds, and keeps your battery fully topped up when your vehicle or boat is not in use. This environmentally friendly Solar Powered Charger is essential for tourism and other recreational activities.
Archos Gmini 402 20 GB Portable Media Player with Camcorder and 2.2″ LCD Screen- 500705 for $99.99
The Archos Jukebox Gmini402 is a revolutionary personal entertainment system. Incorporating music (MP3), photo (JPEG, BMP), video (MPEG4) and portable data storage in to a compact, stylish, handheld device with USB connectivity.
This 'one-of-kind' product is the ultimate in personal electronics!. With a generous 20Gb hard drive, you have the room to store 1000's of photo, mp3 music files, full length movies, etc.
The Gmini402 series bring a whole new dimension to portable entertainment.
Archos Gmini402 supports MPEG-4 SP and stereo sound. Near DVD quality up to 720×480 @ 30 f/s (NTSC), 720×576 @ 25 f/s (PAL), AVI file format (including WMV9 SP protected files) up to 352×288 @ 30 f/s and 800 Kbits. The Gmini402 supports MP3, WAV, protected and unprotected WMA(DRM9&10 "To-Go" Music).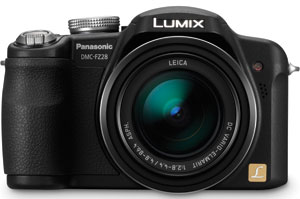 Panasonic DMC-FZ28K on sale for $308.88
The LUMIX DMC-FZ28 digital camera boasts a premium 27mm wide-angle LEICA lens with an 18x optical zoom, ideal for tight indoor shots and long-distance action photos. The 10.1 mega pixel digital camera also features an enhanced Intelligent Auto Mode (iA), with the new AF (auto focus) Tracking function, making it easier for photographers at any level to shoot sharp, well-focused photos, even when the subject is moving making it ideal for action shots. Read more
In case that you don't have your Chumby yet, play with my virtual Chumby and get the sense of this fantastic gadget. Don't run away as you see it. It is not about clock. Spend 1 minute more. Enjoy Chumby's flexibility!

The device is compatible with most brands and small enough to keep you from being discovered. Absolutely amazing. Small size makes it peerless while taking control of your friend's TV set. Universal Micro Spy Remote Control is small, easy to conceal, and easy to use, especially if you have practice with one.
James Bond can rest in piece when you have this remote in your pocket
I asked my self this question at the very first moment I've heard about this cool device. While many manufactures are only speaking about adding cool nontraditional features to their devises, chumby already put together the latest wireless technology, touch-screen display, Linux OS and made it work for you, introducing completely new class of small home appliances.