My Windows Vista system become unresponsive, while using Safari browser or Windows explorer. The system was doing almost nothing, but CPU load was very high and system becomes nonresponsive and very slow.
If you are experiencing performance issues with Windows Vista or Windows 7, if your system becomes nonresponsive, while doing almost nothing and CPU utilization looks unreasonably high, here is one possible solution. Read more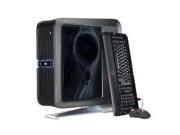 HP Blackbird 002 BB5140rp(GM333AA#ABA) Core 2 Quad Q9450(2.66GHz) 4GB DDR2 Dual NVIDIA GeForce 9800 GT


Your Price: $2699.99 when using promo code: EMCAJCBAE (save $300)
Get free SAMSUNG 2493HM Glossy Black 24″ 5ms (BTW) HDMI Widescreen LCD Monitor as a part of this combo deal.
HP and Voodoo have redefined the gaming desktop with the Blackbird 002. There's nothing this PC can't do for you, as long as you can afford it—and lift it. Read more