Canon PowerShot A590 IS 8 Megapixels, 4x Optical Zoom, 2.5″ LCD, ISO 1600 Digital Camera for $99.99
Canon PowerShot A590 has 8.0-megapixels, a 4x optical zoom, an Optical Image Stabilizer and a large 2.5-inch LCD. A range of shooting modes – from manual to automatic including Canon's new Easy Mode – make picture-taking carefree. A DIGIC III Image Processor with Enhanced Canon Face Detection assures natural-looking results, while Motion Detection Technology reduces blur. For added creativity, attach wide or telephoto converter lenses.
Panasonic Lumix DMC-TZ5S 9MP Digital Camera for $234.85
Panasonic Lumix DMC-TZ5S 9MP Digital Camera with 10x Wide Angle MEGA Optical Image Stabilized Zoom (Silver) highlights:
9-megapixel resolution captures enough detail for poster-sized prints10x optical zoom Leica DC lens; Face Detection
New Panasonic Venus Engine IV improves noise reduction, elevates the detection accuracy and corrective effects
3.0-inch LCD; Mega O.I.S. and Intelligent ISOCaptures images to SD memory cards (not included)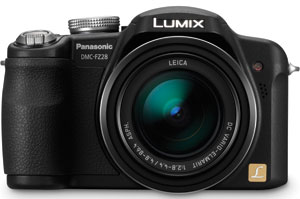 Panasonic DMC-FZ28K on sale for $308.88
The LUMIX DMC-FZ28 digital camera boasts a premium 27mm wide-angle LEICA lens with an 18x optical zoom, ideal for tight indoor shots and long-distance action photos. The 10.1 mega pixel digital camera also features an enhanced Intelligent Auto Mode (iA), with the new AF (auto focus) Tracking function, making it easier for photographers at any level to shoot sharp, well-focused photos, even when the subject is moving making it ideal for action shots. Read more
FujiFilm FinePix J10 8 Megapixel 3x Optical Zoom ISO1600 & Picture Stabilization Digital Camera – Silver – 15821277 for $107.99
The Fujifilm FinePix J10 is an affordable digital camera that will fit easily into almost any pocket. It will not overwhelm a beginner, yet it still includes many key features and an intuitive menu system. With this combination of features, usability, and an almost insanely low price, the slim J10 is somewhat unique in its field. The Fujifilm FinePix J10 features 8 Megapixel Image Quality, 3x Optical Zoom Lens, ISO1600, Picture Stabilization Mode, Slim Body & Stylish, Versatile Shooting Modes, Scene Position, On-Screen Shooting Guide, 2.5-inch LCD, xD/SD Compatible Slot.
Ambico V-0640 Fashion Tripod – Floor Standing Tripod – 10.5″ to 40″ Height – 8.8 lb Load Capacity – V0640 for $13.99
Ambico V-0640 Fashion Floor Standing Tripod Features 2-Way panhead and quick shoe, 180° and 360° head adjustment, Sturdy steel twist-lock legs with easy-grip rubber feet, Camera mount pivots for shots at almost any angle, Sure grip handle for panning and Load Capacity of 8.8lb

Nikon COOLPIX S52c 9 Megapixel Digital Camera with 3x Optical Zoom and,3″ LCD for $199.99.
(9MP, 3456×2592, 3x Opt, 38MB Internal Memory, SD/SDHC Card Slot – MPN: 26104)
The Nikon Coolpix S52c Digital Camera combines 9.0 effective megapixels of imaging performance with a 3x Zoom-Nikkor ED lens to capture everything from wide-open landscapes to tight portraits with outstanding clarity and true-to-life color.