I was very disappointed, when realized that my newly purchased Blu-ray Disc™ Player in not able to play AVI files. I was considering using it together with USB front port to play AVI files and getting rid of old DVD player. My old Phillips DVD player is capable of playing AVI files and I was expecting Blu-ray Disc™ Player to have similar functionality. Read more
Sharp AQUOS LC-52D82U – 52″ Widescreen 1080p 120Hz LCD HDTV – 10000:1 Dynamic Contrast Ratio – 4ms Response Time for $1,599.99
The 52 AQUOS LC52D82U sets a new standard for large-screen flat-panel TVs. With Full HD Spec 1080p resolution, dramatically enhanced black level and an elegant new design, it produces a breathtaking picture quality that is second to none. The LC52D82U utilizes the next generation of Sharp's proprietary Advanced Super View/Black TFT Panel with multi-pixel technology, providing 10,000:1 Dynamic Contrast Ratio, 4ms response time and wide viewing angles (176H x 176V). In addition, the LC52D82U include 120Hz frame rate conversion for the ultimate in fast-motion image processing. The LC52D82U is HD with built-in ATSC / QAM / NTSC tuners and include 3 HDMI? inputs, compatible with 1080p signals, and 2 HD 1080p component video inputs. The LC52D82U features a sleek piano black cabinet, with subtle, recessed bottom mounted speakers and a unique blue LED light under the Sharp logo. The included table stand easily removes for wall mounting applications.
ViewSonic 37″ Widescreen LCD HDTV with Built-In ATSC/NTSC Tuner, Factory Refurbished – N3735w/r for $449.99
ViewSonic's 37″ N3735w widescreen LCD HDTV brings crystal-clear movies, videos and games to your high-definition home entertainment center. TWO HDMI WITH HDCP INPUTS expand your high-def connectivity options giving you the best possible connection for DVD players, cable and satellite boxes, game consoles and more. The N3735w even offers PC connectivity to expand your computing experience to the big screen. ADVANCED CLEARPICTURE ELECTRONICS enhance contrast, define details and boost color, while fast video response, high brightness and contrast ratio combine to deliver amazingly lifelike pictures. The Dolby Digital sound completes your home entertainment experience with clear, digital audio for DVDs, movies, sports and games.
Vizio 26-inch Flat Panel LCD HDTV 1366 x 768 Resolution, 160 Degree Viewing Angle, Integrated ATSC/QAM/NTSC Digital Television Tuner, Versatile Design-VA26L for $299.99
VIZIO's newest VA26L 26in Liquid Crystal Display HDTV offers High Definition performance in a perfectly sized package. Accepting both 720p and 1080i High Definition signals, the new VA26L Liquid Crystal Display HDTV features 2-HDMI inputs, and an RGB input which makes for a perfect computer monitor and integrated NTSC/ATSC/QAM HDTV Tuner. VA26L 26in Liquid Crystal Display HDTV by VIZIO supports 1080i, 720p, 480p and 480i TV formats together with 1366 x 768, 1024 x 768, 800 x 600 and 640×480 PC resolutions via VGA or HDMI
Sharp AQUOS LC-52D43U 52″ LCD TV – LC52D43U for $1,199.99 after $20 instant rebate
Excellent deal for for 52 inch brand name LCD HDTV
Features:
16:9 ASV LCD Panel
16:9 Widescreen
Wide Viewing Angles (176 H x 176 V)
PC Input
Enhanced Color Filter
High Brightness (450 cd/m2)
Built-in ATSC/QAM/NTSC Tuners

Mitsubishi L65-A90 65-Inch LaserVue Rear Projection HDTV
The Laser Era Begins:
World's First Laser-powered Television
Twice the Color Over 200% of HDTV
Energy Efficient-135W Operating Power
3D Ready, High Contrast, 1080p Display
Smooth 120Hz operation
UltraThin™ Frame
Black Lacquer Finish with Blue Diamond Accent Lighting

….. and much more (read quick spec for Mitsubishi L65-A90 65-Inch LaserVue Rear Projection HDTV)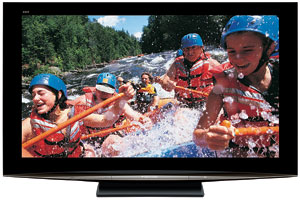 Panasonic TH-50PZ80U Plasma TV for $1,347.94
NEW! 50-inch Class Widescreen VIERA Plasma 1080p HDTV with New Anti-Reflective Filter, Deep Color Technology, Game Mode, Built-In SD Card Slot/GalleryPlayer® Ready to View, 3 HDMI Inputs and VIERA Link® HDAVI Control
Westinghouse 19″ LCD HDTV with Built-In ATSC/NTSC/Clear QAM Tuner, Factory Refurbished SK-19H210S for $199.99
Westinghouse 19″ LCD HDTV is full featured TV that is convenient to use in kitchen, bathroom or RV. The SK-19H210S offers 3 HD inputs, a built-in ATSC/NTSC/ClearQam tuner and a PC compatible 1440 x 900 wide screen resolution
ViewSonic N2230W 22??? (21.6??? Viewable) Widescreen LCD Monitor w/ Built-in HDTV Tuner – 4000:1 (DC), 5ms, 1680×1050 for $284.99 after $50 rebate
ViewSonic's dual-purpose N2230w 22" (21.6"viewable) widescreen LCD TV delivers HD entertainment in style. The stylized glossy bezel houses a full-featured LCD HDTV/PC monitor that includes Super HD 1680×1050 resolution, fast 5ms video response and 4000:1 DYNAMIC CONTRAST RATIO (typ) for SUPERIOR DIGITAL ENTERTAINMENT. It also includes an ATSC/NTSC/QAM tuner, comprehensive inputs including HDMI, component, composite and S-video for all your entertainment devices. The N2230w is ideal for bedrooms, offices, dorm rooms, garages and kitchens. It's the hard-working, space-saving stylish LCD TV for your lifestyle.
Emerson LC320EM8 32″ LCD HDTV w/ Digital Tuner ???Factory Recertified for $419.99
Emerson LC320EM8 32″ LCD HDTV features 32" High Definition 720p LCD display with 1366×768 resolution, built-in ATSC/NTSC turner, 3D Y/C Comb Filter with picture control (Contrast, Brightness, Color, Tint, Sharpness) and Trilingual on screen display (English, Spanish, and French). It has 3 HD inputs, including 1 HDMI with Audio L+R and Coaxial Digital Audio Output.
Samsung T220HD Touch of Color (TOC) 22″ Widescreen LCD Monitor – 10,000:1 (DC), 5ms, HDMI, Built-in HDTV Tuner with special price for this weekend-$379.99
T220HD "Touch of Color" 22″ Widescreen LCD Monitor is an elegant HDTV monitor that feels more like handcrafted artwork than a high-performance video display. The T220HD features a built-in digital HDTV tuner capable of HD 1080p, a USB hub and 2 HDMI connections.
Digital Lifestyles 42″ Widescreen LCD HDTV with ATSC/QAM/NTSC HDMI/HD Tuner-FA2B-42323 Price: $699.99
Corion USA-digital lifestyles-is one of the top suppliers of large screen LCD display products in the North American market. Corion partners with the top manufacturers in the television and audio industry for over 20 years, to present the newest technology in LCD TVs.
Olevia 65″ HDTV LCD TV 1080P (265TFHD)on sale for $2,599.99 and free shipping.
Engineered to provide outstanding video and audio, the Olevia 2 Series displays exceptionally crisp, rich and vibrant images for any type of viewing. Each 2 Series model comes equipped with surround sound for superb home entertainment, yet can also be used for PC applications.
With its brilliant images and vibrant colors, Olevia 65″ 265T FHD LCD HDTV provides high-definition viewing enjoyment in any room or office.
Samsung LN-T5271F – 52″ Widescreen 1080p LCD HDTV
Special Price: $1,999.99
This 52″ Samsung 71F series TV is fantastic. The colors are extremely vivid and the settings on the TV are very user friendly. It features 120Hz technology with Auto Motion Plus 120Hz processor. Full HD 1080P resolution-1920×1080; 25,000:1 dynamic contrast ratio; Auto Motion Plus 120Hz processor. Outstanding 52″ LCD TV. What else can I say?
Samsung LN46A530 – 46″ Widescreen 1080p LCD HDTV for $1,369.99
20,000:1 Dynamic Contrast Ratio – 5ms Response Time – LN46A530P1FXZA