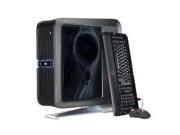 HP Blackbird 002 BB5140rp(GM333AA#ABA) Core 2 Quad Q9450(2.66GHz) 4GB DDR2 Dual NVIDIA GeForce 9800 GT


Your Price: $2699.99 when using promo code: EMCAJCBAE (save $300)
Get free SAMSUNG 2493HM Glossy Black 24″ 5ms (BTW) HDMI Widescreen LCD Monitor as a part of this combo deal.
HP and Voodoo have redefined the gaming desktop with the Blackbird 002. There's nothing this PC can't do for you, as long as you can afford it—and lift it.Unique chassis design; outstanding toolless construction, gorgeous interior layout; blistering performance-this is what you will get together with high reliability, common to high end HP products.
An Intel Core 2 Quad Processor pushes 3D gaming to new heights, and dual SLI NVIDIA 9800GT graphics cards, backed by 4 Gigabytes of Corsair Dominator memory give you possibly more processing power than the space shuttle! Onboard 7.1 audio wraps you in an immersive audio experience to keep you on your game. Load the drives you need into five internal hot-swappable drive bays for holding onto all your media, from games to movies to graphics! Tool-less entry means fewer scraped knuckles and less cursing when you go to make modifications!
Combine all that with dedicated Blackbird support from HP, and it looks like a winning combination, ready to set a few records of its own in the gaming world!
Comments