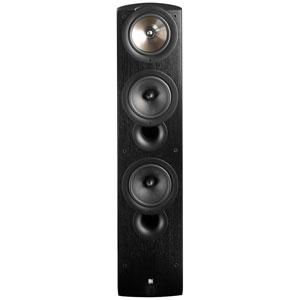 KEF iQ9 3-way Uni-Q Floorstanding Speaker for $378.94
Every KEF speaker I've ever heard, regardless of price, venue, or setup, has always produced good, convincing sound.
The iQ9 won the AudioVideo International Magazine Hi-Fi Grand Prix Award for August 2006. "The high-end iQ9 bass-reflex speakers from KEF feature a genuine three-way design, and a ferrofluid-cooled metal dome tweeter. KEF has eliminated off-axis crossover effects, thus improving sound throughout the room."
The November 2005 issue of Hi-Fi Choice magazine calls the Kef iQ9 the "Best Loudspeaker £500 – £1,000 per pair" and awards it "Best Buy" status. The British magazine praises the iQ9 as "a floorstander of terrific musical power, but one which deftly avoids the trap of overpowering bass. Equally happy in stereo and multichannel systems, this is an all-rounder with serious class."

Hearing the iQ9 in action takes you to a different place – the illusion of presence is phenomenal. This awesome full size bass reflex floorstander partners the latest 160mm (6-1?2″) Uni-Q mid/HF array with a brace of potent new generation LF drivers featuring ultra-low distortion motors and natural fiber-loaded paper cones. Impeccable vocals, delicious midrange and incredible bass extension – and with KEF`s massive internal bracing, none of the LF distortions that usually affect tall speakers. For orchestral, big band or compositionally intricate works, we`re talking devastating accuracy and emotional power. And when complemented by the iQ6c and either iQ3 or iQ7 rear channel speakers, iQ9 is a formidably competent full bandwidth front speaker for large room, high-end home Theater.
Comments