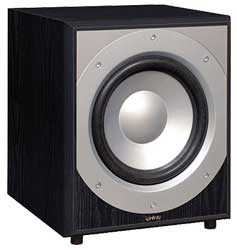 Infinity PS-10 250-watt Powered Subwoofer for $169.93
Infinity PS-10 250-watt Subwoofer is powerful, easy to connect, has great sound quality, features attractive and compact design. The PS-10 powered subwoofer adds rich, exciting bass to today's music and movie soundtracks with its thunderous, tight, clean bass.

People, who bought Infinity PS-10 are saying:
I bought the PS-10 to round out my already substantial system. The PS-10 rounds out the sound when running my system to THX specifications at 80HZ crossover from the Onkyo AVR. I'm pretty tight so I bought all of the listed components on sale, clearance, or openbox. The PS-10 produces note worthy sound and the price was right as well.
I had an Infinity BU1-8″ 150 watt for nine yrs. before it seperated from the foam,and it viberated the floors in my house,so I`ve been sold on Infinity for some time now! The PS-10 is just as great,I didnt care too much for the front mount,as the BU-1 is a bottom mount,but it still sounds great. Good work Infinity!! Thats all I can say!And I do recommend Infinity to everyone.
Comments