Hanns-G HG-216DPB 21.6″ Widescreen LCD Monitor


one more 22 inch monitor from our low price 22″ monitor collection for $169.99
The Hanns-G HG-216DPB features 5ms response time for ghost-free videos that makes action scenes come alive, 1680 x 1050 resolution, 1000:1 contrast ratio, 300-cd/m2 brightness. Amazing image quality puts the HG-216DPB head and shoulders above many other monitors in its class. This elegant new monitor also features comfortable 170/160-degree viewing angles, VGA and HDMI inputs, plus tilt stand and VESA-compliant wall mounting points.
Harman Kardon Drive + Play in Vehicle iPod interface control system – DP1US for $18.99
Control every aspect of playback from track selection to playlists with Harman Kardon Drive + Play. Charge your iPod battery while it's in use (all iPods except 4G Nano, 3G iPhone, 2G touch and 120GB Classic). Audio portion works with any iPod featuring an iPod dock connector.
Harman Kardon's Drive + Play is more than just an iPod adapter it's a complete digital music control system for your car. In fact, the Drive + Play handles the iPod so well that it was given an Innovations Award at the Consumer Electronics Show
Lenovo Ideapad Y510 Notebook Intel Dual Core T2330 / 15.4″ widescreen WXGA VibrantView / Intel® Graphics Media Accelerator X3100 (up to 256MB) 250GB HD ATA/2GB Memory/DL CD/DVD Recordable Webcam/Vista Premium/ Factory Refurbished for $499.99
Lenovo's first consumer notebook, the IdeaPad Y510, offers a head-turning design, facial recognition, and impressive audio quality. The Y510 looks different than every other notebook on the market, with its distinctive linen-weave texture on the lid, boxy chassis, frameless 15.4-inch screen attached with a unique beveled hinge, and orange accents inside.
The conclusion from NotebookReview was:
The Lenovo IdeaPad Y510 is a solid notebook with some innovative features that deserves close consideration. Lenovo has taken a giant leap from their popular ThinkPad line of business notebooks in an attempt to attract general consumer laptop shoppers. The IdeaPad Y510 isn't just a cheap ThinkPad in a pretty plastic shell, it's a unique notebook that has a lot to offer consumers who need a reasonably priced desktop replacement with good multimedia features.
Coleman 50005 5-Watt Solar Powered Trickle Charger would allow you to start your own renewable energy campaign for $29.99
Be green, stay green, start today. Coleman 50005 5-Watt Solar Powered Trickle Charger will charge your RV, boat or light truck 12V battery even under cloudy conditions. Does not require maintenance, connects in seconds, and keeps your battery fully topped up when your vehicle or boat is not in use. This environmentally friendly Solar Powered Charger is essential for tourism and other recreational activities.
Magellan Maestro 3200 3.5″ GPS w/ Preloaded Maps – Refurbished – 980-0007-R01 for $79.99
Worry-free navigation with style! Affordable and complete: 1.3 million Points of Interest and built-in maps of the 48 contiguous United States, Hawaii, and Puerto Rico. Touch the simple menu on the brilliant 3.5″ color display to get an instant route with voice guidance to virtually anywhere. Ultra-thin, wireless and amazingly easy to use!
Archos Gmini 402 20 GB Portable Media Player with Camcorder and 2.2″ LCD Screen- 500705 for $99.99
The Archos Jukebox Gmini402 is a revolutionary personal entertainment system. Incorporating music (MP3), photo (JPEG, BMP), video (MPEG4) and portable data storage in to a compact, stylish, handheld device with USB connectivity.
This 'one-of-kind' product is the ultimate in personal electronics!. With a generous 20Gb hard drive, you have the room to store 1000's of photo, mp3 music files, full length movies, etc.
The Gmini402 series bring a whole new dimension to portable entertainment.
Archos Gmini402 supports MPEG-4 SP and stereo sound. Near DVD quality up to 720×480 @ 30 f/s (NTSC), 720×576 @ 25 f/s (PAL), AVI file format (including WMV9 SP protected files) up to 352×288 @ 30 f/s and 800 Kbits. The Gmini402 supports MP3, WAV, protected and unprotected WMA(DRM9&10 "To-Go" Music).
HP dv6915nr Pavilion Laptop – 2.00 GHz AMD Turion X2 TL-60 Dual-Core Mobile Processor, 4GB, 200GB HDD, LightScribe Super Multi 8X DVD±R/RW, 15.4″ WXGA High-Definition BrightView Widescreen, 802.11b/g WLAN, Altec Lansing Speakers, Windows Vista Home Premi – HPFE654UAR for $599.99
HP Pavilion dv6915nr incorporates most of the features you'll need for school. It features attractive design; decent battery life; comfortable keyboard; touch pad on/off button; touch-sensitive media controls; dual headphone jacks.
Acer Aspire AS7720-6155 Intel Core 2 Duo T5250 1.5GHz, 2GB DDR2, 160GB HD, DVD±RW Super Multi Double Layer Drive, 17.0″ Ultrabright WXGA, 802.11 wireless, 1.3MP Webcam, Windows Vista Home Premium (Recertified) for $399.99
This Acer Aspire 7720-6155 17-inch widescreen notebook is powered by an Intel Core 2 Duo T5250 1.5 GHz processor and 2 GB DDR2 memory. The 160 GB hard drive provides plenty of storage space for tons music, games, photos, videos, critical data, and much more! Plus, Microsoft Windows Vista Home Premium comes pre-installed!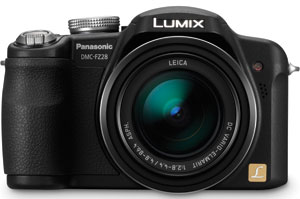 Panasonic DMC-FZ28K on sale for $308.88
The LUMIX DMC-FZ28 digital camera boasts a premium 27mm wide-angle LEICA lens with an 18x optical zoom, ideal for tight indoor shots and long-distance action photos. The 10.1 mega pixel digital camera also features an enhanced Intelligent Auto Mode (iA), with the new AF (auto focus) Tracking function, making it easier for photographers at any level to shoot sharp, well-focused photos, even when the subject is moving making it ideal for action shots. Read more
FujiFilm FinePix J10 8 Megapixel 3x Optical Zoom ISO1600 & Picture Stabilization Digital Camera – Silver – 15821277 for $107.99
The Fujifilm FinePix J10 is an affordable digital camera that will fit easily into almost any pocket. It will not overwhelm a beginner, yet it still includes many key features and an intuitive menu system. With this combination of features, usability, and an almost insanely low price, the slim J10 is somewhat unique in its field. The Fujifilm FinePix J10 features 8 Megapixel Image Quality, 3x Optical Zoom Lens, ISO1600, Picture Stabilization Mode, Slim Body & Stylish, Versatile Shooting Modes, Scene Position, On-Screen Shooting Guide, 2.5-inch LCD, xD/SD Compatible Slot.
Ambico V-0640 Fashion Tripod – Floor Standing Tripod – 10.5″ to 40″ Height – 8.8 lb Load Capacity – V0640 for $13.99
Ambico V-0640 Fashion Floor Standing Tripod Features 2-Way panhead and quick shoe, 180° and 360° head adjustment, Sturdy steel twist-lock legs with easy-grip rubber feet, Camera mount pivots for shots at almost any angle, Sure grip handle for panning and Load Capacity of 8.8lb
Gateway M6309 Notebook PC 1015232R, 15.4in WXGA, Intel Pentium Dual-Core Processor T2330 (1.60GHz), 1GB RAM, 160GB HDD, Intel GMAX3100, w/ WLAN, DVD+/-RW, Windows Vista Home Premium ???Factory Refurbished for $399.99
Gateway M6309 Notebook PC 1015232R features Intel® Pentium® Dual-Core Mobile Processor T2330 with 1.6 GHz, 1 MB L2 cache and 533 MHz FSB, 15.4-inch Ultrabright™ WXGA TFT display and 160 GB 5400 RPM SATA hard drive.
Westinghouse 19″ LCD HDTV with Built-In ATSC/NTSC/Clear QAM Tuner, Factory Refurbished SK-19H210S for $199.99
Westinghouse 19″ LCD HDTV is full featured TV that is convenient to use in kitchen, bathroom or RV. The SK-19H210S offers 3 HD inputs, a built-in ATSC/NTSC/ClearQam tuner and a PC compatible 1440 x 900 wide screen resolution
Kingston 8GB DataTraveler USB 2.0 Flash Drive – DTI/8GB for $20.99
Kingston 8GB DataTraveler USB 2.0 Flash Drive is a reliable, inexpensive solution for carrying files. Now you can store, carry and transfer files quickly in an affordable, convenient device. The DataTraveler from Kingston helps budget-conscious users break storage barriers, allowing you to easily store and move files in a device no bigger than a pocketknife.
Acer Aspire 5315-2698 Notebook with 2.13GHz processor and 15.4″ WXGA display-LX.ALE0X.060for $474.95
Acer Aspire 5315-2698 Notebook powered with Intel Celeron M 560 2.13GHz , 15.4″ WXGA, 1GB DDR2 SDRAM, 120GB HDD, DVD-Writer (DVD-RAM/R/RW), Fast Ethernet, Wi-Fi, Windows Vista Home Premium – LX.ALE0X.060. Can't say much more about this laptop.
Plenio VXA-3000-2G 7″ Touchscreen GPS Navigation System – 2D/3D Maps with Divx Video Player, MP3 Player and Gaming for $129.99
Plenio VXA3000C uses Large 7″ TFT LCD Panel. Can you believe this: 7inch display in portable GPS. It is not surprising that Plenio VXA-3000-2G functionality is enhanced besides regular GPS functions towards multimedia control center, including DIVX Video Player, audio player with mp3, photo slide show and puzzle game support. It also has AV input port: 7″ monitor can be used as in-car display for DVD players, gaming devices and much more.
For those, who are not very happy with the brands like Soyo, Samsung can offer reasonable priced 22″ model for $249.99

Samsung 2253BW 22″ Widescreen LCD Monitor – 8000:1 (DC), 1680 x 1050, 2 ms (GTG) – DVI
Just imagine a monitor you're reluctant to turn off at the end of the workday. Thats the dilemma you face with the Samsung 2253BW widescreen LCD monitors. Their stunning design holds technology that makes them serious monitors for text, graphics and motion video in the workplace. And in the evening, that same technology delivers flawless movies and gaming. You might never turn your monitor off again. With the 2253BW widescreen LCD monitors, its not hard to imagine.
The 53 Series widescreen monitors feature an acrylic bar along the bottom edge that sets them apart with style. The bezels are finished in a rich, high-gloss black, with matching glossy black pedestals. The edges are gracefully rounded, and the design incorporates buttonless touch controls. All of a sudden, your office feels like an art museum.
Well… I can imagine that not everybody would like this feel. For me it looks too shine.
TomTom ONE XL – 4.3″ GPS w/ Preloaded Maps of US and Canada – Refurbished – 1S00.084 for $129.99
The TomTom ONE XL has everything you need to make your trip safer, more relaxed and more fun.
Easy-to-use navigation: user-friendly menu and TomTom's award winning software
Large 4.3 touchscreen
Preloaded maps of the US and Canada
Ready for real-time traffic services
Millions of Points of Interest
Western Digital 1TB My Book Essential USB 2.0 External Hard Drive – WDH1U10000N for $169.99
WDH1U10000N Western Digital 1TB My Book Essential Features:
Easy to set up, easy to use – Installation is a snap because you don't really install this drive, you just plug it in and it's ready to use.
USB 2.0 interface – A simple connection that offers convenience and compatibility among multiple computers.
Fits right in – Takes no more space than a paperback book. Collect two or more and they nest neatly together like volumes on a shelf.
Smart and energy efficient – Turns itself on and off with your computer.
PC and Mac compatible – Works with both Windows 2000/XP/Vista and Mac OS X 10.4.8 or later
SOYO 22″ Widescreen Citrine Series, DYLM2284 or DYLM2280 TFT LCD Monitor, built-in Speakers
Less than ever before: $169.99
I purchased this monitor recently. Could not stand this price. Watch our Gadget Navigator section for review of this Soyo 22″ monitor.

Optiquest Q2162wb 21.6″ Widescreen LCD Monitor – 5ms, 1000:1, 1680×1050 (WSXGA+), VGA, Black for $189.99
The Optiquest® Q2162wb 22″ (21.6″ VIS) widescreen LCD is the big screen choice for users on a budget. You won't sacrifice performance for price with this display. It combines high brightness and contrast ratio with 5ms video response for CRYSTAL-CLEAR, BLUR-FREE VIDEO, TEXT AND GRAPHICS. The super-high 1680×1050 resolution reduces eyestrain and ensures text and graphics are crisp. The widescreen lets you work in two applications or documents side-by-side, so you get more done in less time.
Gateway M-1624 Refurbished Laptop Computer – AMD Turion 64 X2 Dual-Core Mobile TL-60 2.0GHz, 802.11g Wireless, 2GB DDR2, 250GB HDD, DL DVDRW, HDMI, 15.4″ WXGA, Webcam, Windows Vista Home Premium for $499.99
Gateway M-1624 Laptop Computer is a versatile 6.29-pound laptop running on a powerful AMD Turion™ 64 X2 Dual-Core Mobile Technology TL-60 2.0GHz processor.
Gateway M-1624 offers superb communications features, including 802.11g wireless LAN and a 1.3-megapixel webcam and features plenty of entertainment options, including an 8X multi-format dual layer DVDRW with Labeflash™ drive and a high-resolution 15.4-inch WXGA TFT display.

Sylvania SK2201WB 22″ Widescreen LCD Monitor – 5ms, 800:1, 1680×1050 (WSXGA+), VGA, DVI, Internal Speakers, Black for $189.99
Sylvania branded monitors are designed to meet or exceed all relevant industry standards. The SK2201WB provides clear, sharp images at a maximum resolution of 1680×1050 pixels, offers viewing angle of ±160º vertical and ±160º horizontal for viewing comfort, has a 5ms response time and a 800:1 contrast ratio. It's slim bezel fits into most working environments and on most desktops. The SK2201WB is available in black only.
SANDISK SDSDQ-8192-A11M 8GB Class 4 Micro SDHC  for $29.99  (9/18-9/21)
SanDisk microSDHC 8GB Card announced the newest format and capacity to the SD card family: microSD High Capacity (microSDHC) 8GB flash card. It comes with a full size SD adapter to fit into devices with an SD slot. Speed performance rating of SanDisk microSDHC 8GB Card is Class 4 (based on SD 2.00 Specification).
KDS 22in Widescreen LCD Monitor – 5ms 1000:1 on sale for $169.99 9/18-9/19
The K-2237mdwb 22" wide format LCD display has an ultra thin sleek bezel and is capable of 1680 x 1050 resolution. This unit is capable receiving content from your PC via the VGA connection and a DVD player or set top box via the DVI HDCP connection. The K-2237mdwb is housed in a stylish black case with integrated internal power supply.
Western Digital Elements 640GB USB 2.0 External Hard Drive – WDE1U6400N for $96.99
Plain, simple, reliable add-on storage. This external USB 2.0 drive is preformatted for immediate use. Simply plug it in to a USB port and you've got instant storage your PC or Macintosh.
HP Compaq Presario KN916UA Notebook / Intel Dual-Core / 17.0″ WXGA+ High-Definition BrightView Widescreen / 3072 MB / 160 GB Hard Drive / 5-in-1 integrated Digital Media / Webcam / Vista Home Premium / Factory Refurbished – HPKN916UAR for $549.99.
It is powered by 1.73 GHz Pentium Dual-Core Mobile Processor T2370 and features 17.0″ WXGA+ High-Definition BrightView Widescreen Display (1440 x 900), LightScribe Super Multi 8X DVD±R/RW with Double Layer Support, 160G HDD, 5-in-1 integrated Digital Media Reader for Secure Digital cards, MultiMedia cards, Memory Stick, Memory Stick Pro, or xD Picture cards and Webcam with Integrated Microphone.
ViewSonic N2230W 22??? (21.6??? Viewable) Widescreen LCD Monitor w/ Built-in HDTV Tuner – 4000:1 (DC), 5ms, 1680×1050 for $284.99 after $50 rebate
ViewSonic's dual-purpose N2230w 22" (21.6"viewable) widescreen LCD TV delivers HD entertainment in style. The stylized glossy bezel houses a full-featured LCD HDTV/PC monitor that includes Super HD 1680×1050 resolution, fast 5ms video response and 4000:1 DYNAMIC CONTRAST RATIO (typ) for SUPERIOR DIGITAL ENTERTAINMENT. It also includes an ATSC/NTSC/QAM tuner, comprehensive inputs including HDMI, component, composite and S-video for all your entertainment devices. The N2230w is ideal for bedrooms, offices, dorm rooms, garages and kitchens. It's the hard-working, space-saving stylish LCD TV for your lifestyle.
Western Digital 500GB My Book Essential USB 2.0 External Hard Drive – WDH1U5000N for $89.99
This is smart and energy efficient USB 2.0 External Hard Drive – WDH1U5000N – made by Western Digital. Turns itself on and off with your computer. Easy to set up, easy to use. PC and Mac compatible.
Emerson LC320EM8 32″ LCD HDTV w/ Digital Tuner ???Factory Recertified for $419.99
Emerson LC320EM8 32″ LCD HDTV features 32" High Definition 720p LCD display with 1366×768 resolution, built-in ATSC/NTSC turner, 3D Y/C Comb Filter with picture control (Contrast, Brightness, Color, Tint, Sharpness) and Trilingual on screen display (English, Spanish, and French). It has 3 HD inputs, including 1 HDMI with Audio L+R and Coaxial Digital Audio Output.
« go back
—
keep looking »