ASUS Eee PC 904HD 80G 8.9″ screen, Built in Camera, XP Home – Galaxy Black – EEEPC904HD-BK019X for $389.95
ASUS introduced a new Eee PC 904 HD model in addition to the three other 900-series units this summer. Easy to Learn, Work, and Play. ASUS Eee PC 904HD 80G is weighting only 3.09lbs. PC 904HD has built-in Camera, XP Home, MS Works, and Windows Live preloaded. And Wide Touchpad for comfort and convenient. ASUS Eee PC has Glossy IMR Fine Ebony color for elegant look.
Hanns·G HB-175APB Black 17″ 8ms Widescreen LCD Monitor 250 cd/m2 DC 1800:1(600:1) Built in Speakers for $119.99 with promotion code EMCAKBBBF.
Great value for what it is. Even cheaper than the previous item. Picture is surprisingly crisp and clear. Colors are not that fantastic but work great for normal office / home use. Pixel pitch and contrast are fine.
ViewSonic VA1716W 17″ Widescreen LCD Monitor – 500:1, 8ms, 1440×900, 250 cd/m2 for $132.99
Affordable widescreen ViewSonic's 17″ VA1716w LCD brings widescreen performance to budget-conscious users. It is a good and not expensive choice for double monitor configuration if your videocard or laptop docking station allows to connect 2 monitors to the same computer. The 16:10 aspect ratio and high 1440×900 resolution allow you to view two documents side-by-side or to WORK IN MULTIPLE APPLICATIONS SIMULTANEOUSLY . PC gamers will appreciate the immersive gaming action delivered by fast ClearMotiv® video response. You'll be amazed by the EXTREME CLARITY AND BRILLIANT COLORS of the VA1716w. This widescreen LCD continues ViewSonic's tradition of brilliant image quality and reliable performance all at an appealing price point. It's the easy choice for gamers, home/small office users and corporate professionals.
Magellan Maestro 4040 – 4.3″ GPS w/Built-in Maps, Text to Speech, and Bluetooth – Refurbished – RF980920-01 is Priced for $99.99
This is a reconditioned GPS system. As a refurbished GPS you can't beat it for the money. Reconditioned generally means that the GPS system has been returned to the manufacturer, who brings the unit back to like new condition. With built-in AAA TourBook® travel information and member roadside assistance details, the Magellan Maestro 4040 Portable Auto GPS System is the ultimate travel companion. Re-engineered for easy use, it combines advanced features, elegance, and simplicity to make driving more pleasurable and less stressful.
Lenovo 3000 N200 Notebook – Intel Pentium Dual-Core T2330 1.6GHz – 15.4″ WXGA – 1GB DDR2 SDRAM – 120GB – DVD-Writer (DVD-RAM/-R/-RW) – Windows XP Professional – 0769AUU for $599.95
I always liked IBM products for their solid look and excellent build quality. Lenovo is taking over, having in mind the same design goals, delivering good quality and superior balance of features in their new business product line, including Lenovo 3000 N200 Notebook (0769AUU). It comes with Windows XP Professional installed, typical for professional and conservative business laptops. And it is very reasonably priced.
Toshiba Notebook/Intel Processor 540/15.4″ WXGA TruBrite TFT LCD display/2048MB PC5300 DDR2 SDRAM /120GB Hard Drive/DVD±RW (±R DL)/DVD-RAM/Card Reader/Intel GMA X3100 Dynamic Video Memory Technology 4.0/Vista Home Premium/Factory Refurbished – A205-S5000 for $390
This is not the fastest possible machine, it is powered by Intel Celeron 540 with 1.86 GHz clock frequency. Though, it is very good for majority of home and office applications and Toshiba A205-S5000 laptop seems to be well balanced product. 2GB of fast 667MHZ DDR2 memory is enough to run Windows Vista smoothly. For a very funny price with free shipping.
Sony 4 GB Walkman Video MP3 Player for $94.85




SanDisk Sansa Clip 2 GB MP3 Player for $34.21

Creative Zen 8 GB Portable Media Player
Buy New: $99.99
Ellipse 2GB Video, Music, Pictures MP3 Player 1.8 LCD – Ellipse 2 manufactured by InVion will cost you almost nothing. Sale price is $17.99 with free shipping.
The Ellipse II MP3/MP4 Video player made by InVion has a Slim & Portable design that is packed full of features, very common to generic MP3/MP4 player. 1.8″ screen, 2 GB of memory, SMV video playback, e-book reading (if your eyes are good enough to read from 1.8″ screen). Battery life is not terribly long, something around 6 hours of video playback, which is very common for inexpensive players from China. Good overall product with the price that rocks!
Acer AL1916WAbd Black 19″ 5ms Widescreen LCD Monitor
is on sale for $149.99. Use our promotion code EMCAKAEAB to get this price
The specs on this monitor are: Screen Size-19″, Widescreen WXGA, Maximum Resolution-1440 x 900, Recommended Resolution-1440 x 900, Viewing Angle-150°(H) / 130°(V), Pixel Pitch-0.284mm, Display Colors-16.2 Million, Brightness-300 cd/m2, Contrast Ratio-700:1, Response Time-5ms, Panel-Active Matrix, TFT LCD
Lenovo IdeaPad Y510 Series 15.4″ Laptop (Intel Core 2 Dual T5750 Processor, 3 GB RAM, 250 GB Hard Drive, Vista Premium) – 59014898 for $833.99
IdeaPad Y510 15.4″ widescreen notebook features Core-2 Duo T5750 Processor, 3072M Memory, 250GB Hard Drive and 1.3MP Webcam.
Kingston 8GB DataTraveler 100 USB2.0 Flash Drive – DT100/8GB for $21.99 with free shipping.
DataTraveler 100 is a reliable, inexpensive solution for carrying digital files with you anywhere you go.
HP Pavilion dv9823cl 17″ WXGA+ Laptop with high-definition widescreen, X2 Dual-Core, 250GB SATA hard drive, 3GB DDR2 memory, 5-in-1 digital media reader, wireless LAN, webcam and NVIDIA GeForce Go (Factory Refurbished) – KN873UAR $599.99
HP Pavilion dv9823cl 2.0GHz AMD Turion 64 X2 Dual-Core Mobile Technology TL-60, 250GB 5400RPM HDD, 3072MB DDR2 system memory, 17″ BrightView WXGA+, NVIDIA GeForce GO 7150 up to 1071MB Video Memory, LightScribe Super Multi 8X DVDR/RW with Double Layer Support, 802.11b/g Wireless LAN, WebCam with Integrated Microphone, 8 Cell Battery, Windows Vista Home Premium, refurbished by HP with 90 day warranty
SOYO 22″ Widescreen Citrine Series, DVI, 1,000:1, TFT LCD Monitor, built-in Speakers -Black DYLM2284 or DYLM-2280 is Priced for $179.99
The most affordable 22 inch monitor ever! Perfect for any office, as well as home.
SOYO DYLM2284 or DYLM-2280 22-inch (21.6 Viewable) Widescreen LCD monitor incorporates superior TFT (Thin Film Transistor) display technology in a stylish compact design that frees up valuable desk space, with a wide-angle flat screen that offers a view of the screen from various angles without compromising image quality. Featuring high brightness, sharp contrast and vivid colors for hours of comfortable viewing, SOYO's built-in speakers deliver stereo-quality sound.
Samsung T220HD Touch of Color (TOC) 22″ Widescreen LCD Monitor – 10,000:1 (DC), 5ms, HDMI, Built-in HDTV Tuner with special price for this weekend-$379.99
T220HD "Touch of Color" 22″ Widescreen LCD Monitor is an elegant HDTV monitor that feels more like handcrafted artwork than a high-performance video display. The T220HD features a built-in digital HDTV tuner capable of HD 1080p, a USB hub and 2 HDMI connections.
HP Compaq 6510B 14.1″ Laptop 1.8 GHz Intel Core 2 Duo T7100 Processor, 1 GB RAM, 80 GB Hard Drive, DVD/RW Drive, XP Pro – GY787US#ABA
Price: $770.95
The highly mobile HP Compaq 6510b Notebook PC is a nice product from HP business laptop line. Includes Intel Core 2 Duo T7100 processor, 1GB 667DDR2 memory, 80gb 5400 rpm hdd, DVD RW dual layer optical drive, 14.1in WXGA display, 56k modem, WLAN 802.11a/b/g/, Bluetooth, and Xp Pro OS.
Magellan Maestro 4250 – 4.3″ GPS w/ Pre-loaded Maps, TTS, and Bluetooth – Refurbished for $169.99
Magellan Maestro 4250 (980-0019-R01) delivers the latest advanced navigation and communication features. It includes built-in maps of the U.S., Puerto Rico and Canada, 6 million pre-programmed Points of Interest, integrated AAA TourBook guide information, SayWhere text-to-speech, LIVE traffic report capability and more. Plus, make hands-free phone calls with your Bluetooth-enabled phone.
Digital Lifestyles 42″ Widescreen LCD HDTV with ATSC/QAM/NTSC HDMI/HD Tuner-FA2B-42323 Price: $699.99
Corion USA-digital lifestyles-is one of the top suppliers of large screen LCD display products in the North American market. Corion partners with the top manufacturers in the television and audio industry for over 20 years, to present the newest technology in LCD TVs.
Apple 30GB iPod Video 5th Gen (BLACK) – MA446LL/A -Reconditioned
$129.99
5th generation iPod with video playback features the same 2.5″ display, but now it's 60% brighter! Perfect for iTunes 7, which ushers in movie and video game downloads. Another update that will help out with all that new content is the battery. This iPod has up to 14 hours of music playback, and up to 3.5 hours of video playback. You also get a newer set of white Apple earbuds, and best of all, a lower price!
Toshiba Notebook/Intel Processor 540/15.4″ WXGA TruBrite TFT LCD display/2048MB PC5300 DDR2 SDRAM /120GB Hard Drive/DVDRW (R DL)/DVD-RAM/Card Reader/Intel GMA X3100 Dynamic Video Memory Technology 4.0/Vista Home Premium/Factory Refurbished – A205-S5000 on sale for $399.99
Toshiba Notebook features Intel Celeron Processor 540, 1.86GHz, 1MB L2, 533MHz FSB Mobile Intel GL960 Express Chipset; 2048MB PC5300 DDR2 SDRAM; 15.4″ TruBrite TFT LCD display; 1280 x 800 native resolution with (WXGA) native Support for 720p and 120GB drive.
Olevia 65″ HDTV LCD TV 1080P (265TFHD)on sale for $2,599.99 and free shipping.
Engineered to provide outstanding video and audio, the Olevia 2 Series displays exceptionally crisp, rich and vibrant images for any type of viewing. Each 2 Series model comes equipped with surround sound for superb home entertainment, yet can also be used for PC applications.
With its brilliant images and vibrant colors, Olevia 65″ 265T FHD LCD HDTV provides high-definition viewing enjoyment in any room or office.
ViewSonic VA2226W – 21.6″ Widescreen LCD Monitor – 5ms, 1000:1 (DC 2000:1), 1680×1050
Price: $199.99 after rebate.
Enhance your desktop with the stylish, slim-bezel design and enhance your productivity with the ability to VIEW TWO FULL-SIZE DOCUMENTS SIDE-BY-SIDE or work in multiple applications simultaneously. Only 2.4″ deep without the stand, this displays VESA wall-mount compliance allows the VA2226w to fit beautifully into any office decor.
Read more
Gateway P-6836 Notebook /Intel Centrino Core 2 Duo / 17″ Ultrabright WXGA+ / 2048MB DDR2 / 250GB HD/8x Multi-Format Dual Layer DVD+/-RW / Wireless LAN / Vista Home Premium – 1015268R for $529.99
17″ P-Series Notebooks are designed with performance in mind. Digital creation, intense gaming, HD entertainment: these were givens. The features you'd expect in a custom-built machine come standard—all built into a sleek notebook frame that oozes "vroom." The horsepower of a desktop in a notebook chassis.
SanDisk Sansa Fuze MP3 Player 4GB – Blue – SDMX14R-004GB-A70Sale Price: $69.99
"The SanDisk Fuze is an eye catching MP3 music player that users will enjoy for its looks, capabilities and incredible value," said Eric Bone, vice president of product marketing for Sansa, SanDisk's audio/video product line. "This new MP3 music player combines some of the best features found on other SanDisk Sansa products, including great sound quality. It's yet another strong offering by SanDisk.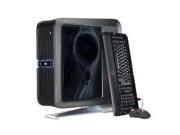 HP Blackbird 002 BB5140rp(GM333AA#ABA) Core 2 Quad Q9450(2.66GHz) 4GB DDR2 Dual NVIDIA GeForce 9800 GT


Your Price: $2699.99 when using promo code: EMCAJCBAE (save $300)
Get free SAMSUNG 2493HM Glossy Black 24″ 5ms (BTW) HDMI Widescreen LCD Monitor as a part of this combo deal.
HP and Voodoo have redefined the gaming desktop with the Blackbird 002. There's nothing this PC can't do for you, as long as you can afford it—and lift it. Read more
SanDisk 8GB Cruzer Gator USB 2.0 Flash Drive – SDCZP-8192-A11BL is on sale for $28.46 with free shipping
Seagate FreeAgent Pro – 750GB, USB 2.0, eSATA, 7200 RPM, FireWire External Hard Drive – ST307504FPA1E3-RK–Includes 5 Year Warranty!
Priced for $126.99
Seagate FreeAgent Pro 750 GB USB 2.0/FireWire 400/eSATA External Hard Drive General Features: 750 GB capacity, 7200 RPM spindle speed, USB 2.0 interface, eSATA interface, Dual FireWire 400 Interface. USB 2.0 transfer speed: up to 480 Mbps, eSATA speed: up to 3 GB/sec FireWire 400 speed: 400 MB/sec.

Nikon COOLPIX S52c 9 Megapixel Digital Camera with 3x Optical Zoom and,3″ LCD for $199.99.
(9MP, 3456×2592, 3x Opt, 38MB Internal Memory, SD/SDHC Card Slot – MPN: 26104)
The Nikon Coolpix S52c Digital Camera combines 9.0 effective megapixels of imaging performance with a 3x Zoom-Nikkor ED lens to capture everything from wide-open landscapes to tight portraits with outstanding clarity and true-to-life color.
Cavalry 1TB External Hard Drive for $159.99
It's a nice solid, external hard drive. Very quiet and fast, easy to hook up, windows finds it immediately, no formating necessary, you can use it right away.
SanDisk Sansa Fuze 8GB MP3/MP4 Player is waiting for you, priced for $79.99
With audio playback for up to 24 hours, 5 hours of video playback, internal rechargeable battery and microSD/microSDHC slot for additional content expansion, Sansa Fuze 8GB (SDMX14R-008GS-A70) marks the next wave of music & video players.
Kingston 8GB DataTraveler USB 2.0 Flash Drive – DTI/8GB for $21.99
The DataTraveler from Kingston helps budget-conscious users break storage barriers, allowing you to easily store and move files in a device no bigger than a pocketknife. The DataTraveler is a reliable, inexpensive solution for carrying files
« go back
—
keep looking »