I was very disappointed, when realized that my newly purchased Blu-ray Disc™ Player in not able to play AVI files. I was considering using it together with USB front port to play AVI files and getting rid of old DVD player. My old Phillips DVD player is capable of playing AVI files and I was expecting Blu-ray Disc™ Player to have similar functionality. Read more
Most of modern Blu-Ray Players are capable of delivering network content; many of them have Wi-Fi capability. In fact, ability to play internet content including Netflix was one of the main reasons why I bought my glorious Sony BDP-BX57 Blu-Ray Player from Costco. One more interesting and very useful feature is the ability of network enabled players to stream content from your PC to TV. Read more
My Windows Vista system become unresponsive, while using Safari browser or Windows explorer. The system was doing almost nothing, but CPU load was very high and system becomes nonresponsive and very slow.
If you are experiencing performance issues with Windows Vista or Windows 7, if your system becomes nonresponsive, while doing almost nothing and CPU utilization looks unreasonably high, here is one possible solution. Read more
People are asking a lot of questions regarding SSD, USB Flashdrive and SDHC cards performance in ASUS EeePC. With all flexibility of OS installation (both Windows XP and Ubuntu Linux), offered by EeePC, these questions become really critical in getting good performance and desired flexibility of EeePC operation.
I don't want to make any conclusion about drive performance. I just want to collect data, available to me on ASUS EeePC 901 and ask people to share information that they can measure on their systems.
Imation Apollo 160GB USB 2.0 Portable Hard Drive for $47.99
The Imation Apollo 2.5″ Portable Hard Drive offers high-capacity mobile storage for data, photos, presentations, videos and music in a pocket-sized device that is lightweight, stylish and extremely durable. The Apollo drive is fully USB 2.0 powered and does not require an additional power supply. A blue indicator visually shows when data transfer is in process. The Imation Apollo 2.5″ Portable Hard Drive may be a good addition for your netbook, if you are looking for inexpensive storage options to enhance functionality of your favorite netbook
Sharp AQUOS LC-52D82U – 52″ Widescreen 1080p 120Hz LCD HDTV – 10000:1 Dynamic Contrast Ratio – 4ms Response Time for $1,599.99
The 52 AQUOS LC52D82U sets a new standard for large-screen flat-panel TVs. With Full HD Spec 1080p resolution, dramatically enhanced black level and an elegant new design, it produces a breathtaking picture quality that is second to none. The LC52D82U utilizes the next generation of Sharp's proprietary Advanced Super View/Black TFT Panel with multi-pixel technology, providing 10,000:1 Dynamic Contrast Ratio, 4ms response time and wide viewing angles (176H x 176V). In addition, the LC52D82U include 120Hz frame rate conversion for the ultimate in fast-motion image processing. The LC52D82U is HD with built-in ATSC / QAM / NTSC tuners and include 3 HDMI? inputs, compatible with 1080p signals, and 2 HD 1080p component video inputs. The LC52D82U features a sleek piano black cabinet, with subtle, recessed bottom mounted speakers and a unique blue LED light under the Sharp logo. The included table stand easily removes for wall mounting applications.
Majority of 8.9 inch netboks seems to be like brothers, raised by the same family. Acer Aspire One Netbook is not exeption. Common set of features and options. But the price of this refurbished unit rocks.
Acer Netbook, 8.9″ WSVGA with CrystalBrite Technology Intel Atom 1.60GHz N270, 120GB HD, 1GBDDR2 SDRAM, 802.11b/g wireless LAN, Built-in Card Reader, Acer Crystal Eye Webcam, Windows XP Home, Sapphire Blue, Factory Refurbished – AOA150-1864 – L-LU.S050B.182R


Acer Netbook, 8.9″ WSVGA with CrystalBrite Technology Intel Atom 1.60GHz N270, 120GB HD, 1GBDDR2 SDRAM, 802.11b/g wireless LAN, Built-in Card Reader, Acer Crystal Eye Webcam, Windows XP Home, Seashell White, Factory Refurbished – AOA150-1786 – L-LU.S040B.204R

You can get any of them for $289.99 with free shipping.
Buy-Com named it "The ultimate machine for the economic crisis"
While touchpad of my ASUS EeePC 901 is working well for majority of applications, there are some that are not easy to operate without regular mouse. These applications include Adobe Photoshop, GIMP and other drawing, image manipulating and CAD software. Razer Pro Click Bluetooth Mouse is a pure solution to the problem. While you can easily attach any USB mouse to the netboook, Bluetooth Mouse could be an exellent solution for your "mouse mobility" needs. Espesially, taking into account Bluetooth interface presence in your favorite netbook.

Razer Pro Click Bluetooth Mouse is priced for less than $30 at your convenience
With its pocket-sized, ergonomic ambidextrous design, the Razer Pro Click Mobile Notebook Mouse is the ideal notebook mouse for professionals on the go and where space is a constraint. Experience high-precision performance and true freedom with Bluetooth 2.0 connectivity.
Uninterrupted Connectivity – With Bluetooth 2.0 adaptive frequency hopping, you can be assured of a reliable performance no matter where you are.
Ergonomic Form Factor – Enjoy true comfort on the go, with the ergonomic ambidextrous design and sleek non-slip finishing of the Razer Pro Click Mobile.
No Drivers Required – With no need for any driver installation, getting started with the Razer Pro Click Mobile is simply a breeze. I installation is easy with no drivers required.
Razer Pro Click Bluetooth Mouse is powered by two AA battery's and it has the on/off switch to help extend battery life. This is very nice feature for mobile product.
This Bluetooth Mouse keeps all USB ports available for other devices.
And the price, that is almost too times less than most of other Bluetooth Mouse's on the market.
Gateway M-6335 Notebook Intel Dual Core, 2GB, 160GB HDD, Ultrabright WXGA 15.4 Display, 8X Multi-Format Dual Layer DVD/RW w/Labelflash, 802.11G Wireless LAN, Bluetooth, Webcam, 5-in-1 Card Reader, Windows Vista Home Premium, Grey – Factory Refurbished for $499.99
Nothing special. Gateway M-6335 Notebook is a good overall notebook for this price.
ViewSonic 37″ Widescreen LCD HDTV with Built-In ATSC/NTSC Tuner, Factory Refurbished – N3735w/r for $449.99
ViewSonic's 37″ N3735w widescreen LCD HDTV brings crystal-clear movies, videos and games to your high-definition home entertainment center. TWO HDMI WITH HDCP INPUTS expand your high-def connectivity options giving you the best possible connection for DVD players, cable and satellite boxes, game consoles and more. The N3735w even offers PC connectivity to expand your computing experience to the big screen. ADVANCED CLEARPICTURE ELECTRONICS enhance contrast, define details and boost color, while fast video response, high brightness and contrast ratio combine to deliver amazingly lifelike pictures. The Dolby Digital sound completes your home entertainment experience with clear, digital audio for DVDs, movies, sports and games.
Coby Electronics 20GB Digital Multimedia Device(Audio Player, Video Player, Video Recorder, Photo Viewer)PMP-3520 for $69.99
The PMP-3520 20 GB Portable Media and MP3 Player with Video Recorder from Coby is a portable media player with a 3.5″ LCD screen, video recording, SD memory expansion slot, an integrated speaker and 20 GB of internal storage. The player can input and output video and audio using standard A/V connections, allowing you to use it as a handheld device or to connect it to a home theatre for playback or recording. It also plays back all standard computer video formats, MP3 music and digital camera images. This is a great solution for anyone looking for a portable personal media player.
Vizio 26-inch Flat Panel LCD HDTV 1366 x 768 Resolution, 160 Degree Viewing Angle, Integrated ATSC/QAM/NTSC Digital Television Tuner, Versatile Design-VA26L for $299.99
VIZIO's newest VA26L 26in Liquid Crystal Display HDTV offers High Definition performance in a perfectly sized package. Accepting both 720p and 1080i High Definition signals, the new VA26L Liquid Crystal Display HDTV features 2-HDMI inputs, and an RGB input which makes for a perfect computer monitor and integrated NTSC/ATSC/QAM HDTV Tuner. VA26L 26in Liquid Crystal Display HDTV by VIZIO supports 1080i, 720p, 480p and 480i TV formats together with 1366 x 768, 1024 x 768, 800 x 600 and 640×480 PC resolutions via VGA or HDMI
We are back from our Christmas holidays. Happy New 2009 Year!
Kingston 4GB Mobility Kit – MBLY/4GB for $9.99
This all-in-one media kit combines a single card with an adapter to give mobile users the compatible storage they need for all SD and USB compatible devices, including mobile phones, digital cameras, notebook PCs, media players and more.
By offering three adapters with the microSD card as the centerpiece, users get the most versatile mobile gear that seamlessly converts to a Secure Digital (SD), miniSD or USB format with one card that can be used across devices to easily move photos, music, videos or data to your camera, mobile phone or computer.
Kingston 16GB DataTraveler 100 USB 2.0 Flash Drive – DT100/16GB for $24.99
DataTraveler 100 is a reliable, inexpensive solution for carrying digital files with you anywhere you go. 16GB DataTraveler 100 will give you plenty of room to hold just about any document, from term papers and theses to digital images, spreadsheets or other important documents.
SanDisk 4GB Cruzer Micro U3 Smart USB 2.0 Flash Drive – SDCZ6-4096-A11 for $9.99
Cruzer Micro is an incredibly small USB Flash Drive that connects to a computer's USB port. You can easily store their key documents, pictures, music and video clips on a Cruzer Micro and transfer them to another computer with a USB port. Cruzer Micro is small, portable, and smart. New retractable USB port eliminates the need for caps and protects your port. Cruzer Micro provides UFD technology and a U3 Smart capable flash drive w/ Ready Boost perfect fit with Microsoft Vista. It's a computer in your pocket.
A-Data 16GB Turbo SDHC Memory Card for $29.96
A-Data 16 GB Turbo SDHC Memory Card features 16 GB storage capacity and Class 6 speed rating. It it highly rated by users for it's speed of operation and data transfer. A lot of people are using this card as addon storage for their netbooks, including famous ASUS EeePC 900 and EeePC 901.
Coby Electronics PMP-3520 20GB Digital Multimedia Device for $69.99
The PMP-3520 20 GB Portable Media and MP3 Player with Video Recorder 3.5″ Screen from Coby is a portable media player with a 3.5″ LCD screen, video recording, SD memory expansion slot, an integrated speaker and 20 GB of internal storage. The player can input and output video and audio using standard A/V connections, allowing you to use it as a handheld device or to connect it to a home theatre for playback or recording. It also plays back all standard computer video formats, MP3 music and digital camera images. This is a great solution for anyone looking for a portable personal media player. And the price is also good for 20GB portable MP5 player.
Canon PowerShot A590 IS 8 Megapixels, 4x Optical Zoom, 2.5″ LCD, ISO 1600 Digital Camera for $99.99
Canon PowerShot A590 has 8.0-megapixels, a 4x optical zoom, an Optical Image Stabilizer and a large 2.5-inch LCD. A range of shooting modes – from manual to automatic including Canon's new Easy Mode – make picture-taking carefree. A DIGIC III Image Processor with Enhanced Canon Face Detection assures natural-looking results, while Motion Detection Technology reduces blur. For added creativity, attach wide or telephoto converter lenses.
Navigon 5100 Automobile Navigator for $129.99
When you're always on the go you need a GPS device with the latest technology that's easy to use. The NAVIGON 5100 has all the features you need to manage your busy life. Plus, it looks great on your dashboard. It's slim — less than an inch thick — and sports an easy-to-read 3.5″ touch screen wrapped in an elegant chrome frame.
This take anywhere device is simple to use and offers:
Free Lifetime Traffic that works out of the box
Extra guidance with exclusive 3D Reality View™ and Lane Assist
A host of premium features no other GPS offers
Up to 12 map updates when you accessorize with FreshMaps
Exclusive Zagat® Ratings and Reviews
Intuitive menus and stunning 2D and 3D maps
Easy-to-read map views that adapt to your needs
MSI Wind U100-279US 10″ Netbook Intel Atom N270 1.6GHz, 1GB, 160GB HDD, 6 Cell Battery, 802.11 b/g/n, Bluetooth, Webcam, Windows XP Home Edition (White) for $384.95 after rebate
If you feel that 7 inch ASUS EeePC is two small and 13.3 inch Macbook is two big, this baby is right for you. Powered by full set of features, common for the latest netbooks, including 160GB hard drive and 6 cell battery, this attractive netbook is sold for very reasonable price. Big hard drive offers additional flexibility in OS installation. Light weight, long battery life and almost full size keyboard makes MSI Wind U100 good travel companion.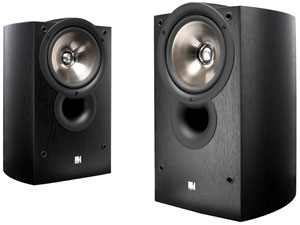 KEF iQ1 Black (Pair) 2-way Bookshelf Speakers for $198.94
As you probably realized, I'm a big fan of KEF loudspeakers. KEF iQ1 is one more example of loudspeaker that outperforms expectations for its class. They have very smooth and natural sound, common for any KEF loudspeakers. It is difficult to describe sound using words but these speakers are raising the bar for just how incredible bookshelf speakers can sound
Acer Aspire AOA110-1295 Netbook Intel Atom N270 1.60GHz, 8.9″ Wide SVGA, 512MB, 8GB SSD (White) – LU.S020A.012 for $299.00
The Acer Aspire Mini-Notebook- Intel Atom Processor N270 (512KB L2 Cache, 1.60GHz, 533MHz FSB). 512MB DDR2 533 SDRAM. 8GB NAND flash memory, multi-in-one card reader, SD Card reader TFT Display: 8.9″ WSVGA (1024 x 600), Acer CrystalBrite Technology. Integrated Intel Graphics Media Accelerator 950 802.11b/g WLAN, 10/100 LAN, integrated webcam. Chassis Color: Seashell white. OS: Linpus Linux Lite
Nice but not very powerful netbook. Only 512MB of memory and 8GB Solid State Drive. But wait, we've heard some rumors about next week deals and expecting more powerful MSI Wind U100 for a very interesting price. Stay in touch
PowerPC G4 1GHz – 12.1″ XGA – 256MB DDR SDRAM – 30GB HDD – Combo Drive (CD-RW/DVD-ROM) – Fast Ethernet – Mac OS X 10.3 Panther – Refurbished for $329.00
Great product for antique lovers. The iBook G4/1.0 12-Inch (Opaque White), features a 1.0 GHz PowerPC 7447a (G4) processor with a 512k ""on chip"" level 2 cache, 256 MB of RAM (PC2100 DDR SDRAM), a 30 GB (4200 RPM) Ultra ATA/100 hard drive, a slot-loading DVD-ROM/CD-RW ""Combo"" drive, 4X AGP ATI Mobility Radeon 9200 graphics with 32 MB of DDR SDRAM, and optional AirPort Extreme (802.11g) and Bluetooth 1.1 packed into a compact opaque white case with a 12.1″" TFT XGA active matrix display (1024×768 native resolution).
IBM ThinkPad R51-PM 1.7GHz 512MB, 40GB HDD, DVD-CDRW, WIFI, 14.1″, Windows XP Pro – Refurbished – 2889-W57 for $349.00
Lenovo ThinkPad R Series notebooks offer mainstream performance and features for frequently mobile users who want easy, ready-to-run computing. These affordable notebooks offer lightweight designs with great performance, outstanding battery life on select models and large, bright displays. The ThinkPad R51 mobile workstation provides high-performance graphics for displaying detailed designs, dramatic demos and high-powered presentations.
V-Touch 8GB MP3/MP4 2.8″ Touch Screen – 2MP Camera – Expandable MiniSD – VL-875-8GB-BLK for $69.99
V-Touch Personal Media Player represents the new generation of MP3/MP4/MP5 players. If features design that is highly influenced by the latest iPhone products from APPLE. The V-Touch Personal Media Player is the latest in touch screen media players. It features a beautiful 2.8″ color TFT screen with an easy to use navigation system. It supports playback of AVI, MP4 and 3GP videos at 320×240 resolution. The unit also plays back MP3 and WMA audio files. There is a built-in speaker for those who choose not to use headphones.
The V-Touch also features a built-in 2.0 megapixel digital camera which records both stills and videos. It also works as a webcam when connected to a computer through the USB port. The V-Touch has a MiniSD Card slot should you wish to expand your storage space.
The V-Touch also has additional features such as a voice recorder, FM Radio (with presets and internal recording), picture viewer, calendar and text reader functions!
Spinmaster Electric Havoc Heli Laser Battle RTF 2 RC Helicopter Pack

Take flight and buzz through the open air and shoot each other down with the Spinmaster Havoc Heli Laser Battle 2 RC Helicopter Pack. With a mere 6.5-inch size, you'll marvel as this miniature RC copter zips and zings around your living room with remarkable precision and speed. Includes 3 frequency bands so you can fly up to three at a time. A new limit has been reached with the amazing Havoc Heli Laser Battling Set! Now you can battle helicopters with your friends and shoot them down from the sky. Simply fly into position, fire from your controller and BAM! your opponent goes into a wild tailspin! The Havoc Heli Battling Set comes complete with 2 helicopters, 2 controllers, authentic battling sounds, 2 long life rechargeable LiPo batteries and real infrared targeting. These battle helicopters are Ready to Fly right out of the box so that you can enjoy them the same day that you open them!
Kingston 16GB DataTraveler USB Flash Drive – DTI/16GB really amazing deal-16Gig USB Flash Drive for $24.99
The DataTraveler from Kingston will help you to break storage barriers. It allows to store and move up to 16Gig of files in a device no bigger than a pocketknife. The DataTraveler is a reliable, inexpensive solution for carrying files and it comes with
five-year Kingston's warranty.

Power Up USB 2.0 to VGA Adapter – USB 2.0, 1680×1050

for $59.98
The USB 2.0 VGA Adapter enables you to connect any monitor, LCD, projector or notebook. You can use it as an extended desktop or as a larger/different display from your main screen.
I have some concerns about picture quality of this product. In fact, you are getting what you are paying for.
Sharp AQUOS LC-52D43U 52″ LCD TV – LC52D43U for $1,199.99 after $20 instant rebate
Excellent deal for for 52 inch brand name LCD HDTV
Features:
16:9 ASV LCD Panel
16:9 Widescreen
Wide Viewing Angles (176 H x 176 V)
PC Input
Enhanced Color Filter
High Brightness (450 cd/m2)
Built-in ATSC/QAM/NTSC Tuners
Zvue 30906 Spirit 1 GB MP3 Player, Pre-loaded with 15 Patriotic Songs -Great Gift! – 30906 Spirit 1GB for $10.99
This is one of least expensive 1 Gb MP3 player we ever seen. It has all common features, including backlit LED screen, a rechargeable Lithium-Ion battery, built-in speaker, voice recorder with built-in microphone and USB2 compatible port. The Spirit supports MP3, WMA, and WAV audio formats, so it's ready for your music collection. You'll get seven equalizer presets so you can choose one suited to your taste, along with shuffle and repeat features for your current musical needs. The device supports ID3 Tag so you've always got song info at your hands, as well as Lyrics file (.LRC) support for displaying lyrics (third-party Software needed).
World's Smallest mini helicopter with super flight control!

The future of miniature RC heli-copter is here. Super stable control to do figure 8's and
land in the palm of your hand! You won't believe how easy it is to fly! The Ed Hardy Special Edition Intelli Heli 3CH RTF Electric Mini RC Helicopter has patented counter-rotating blades which provide you the most stable flight possible in a mini helicopter! You won't believe the smooth flight, as you zoom around the room and impress your friends! Your cat will go nuts as you chase it around the room! Don't worry, the lades won't break and extras are even included! Our dual fan-style blades allow for precision flight – cut left, cut right, do a fly by of your cat, and zip up to land in the palm of your hand. More fun than should be allowed in a office, as you drop in on your friends – they won't see it coming! With three different colors and frequencies, you can collect all three and fly them with your friends – all at the same time! Battle it out for micro dominance. The Intelli Heli also comes with an integrated high-capacity Li-Poly battery which allows for flight times of 10-15 minutes on just a 20 minute charge. Don't miss our on this
limited time offer, and snap it up before this offer flies away!
Sandisk Sansa e250 2GB MP3 Player, FM tuner, FM on-the-fly Recording, Built-in microphone, Video, Expandable Memory- SDMX4-2048R for $26.99
The Sansa e250 2GB Digital Multimedia Device is the flagship product of SanDisks audio line. Created by the leaders in flash memory, this flash-based player provides everything you need for music, photo, and video clip playback. The very attractive, sleek design includes a 1.8″ TFT color screen with advanced navigational features and an easy to use interface. You can also avoid scratches and cracks with the durable Liquidmetal backing. The Sansa e250 2GB Digital Multimedia Device provides superior sound playback and supports Microsoft PlaysForSure subscription music. The SanDisk Media Converter supports most image formats to enjoy photos and small personal videos. Also included is a USB cable and white earbuds.
keep looking »